April 16, 2017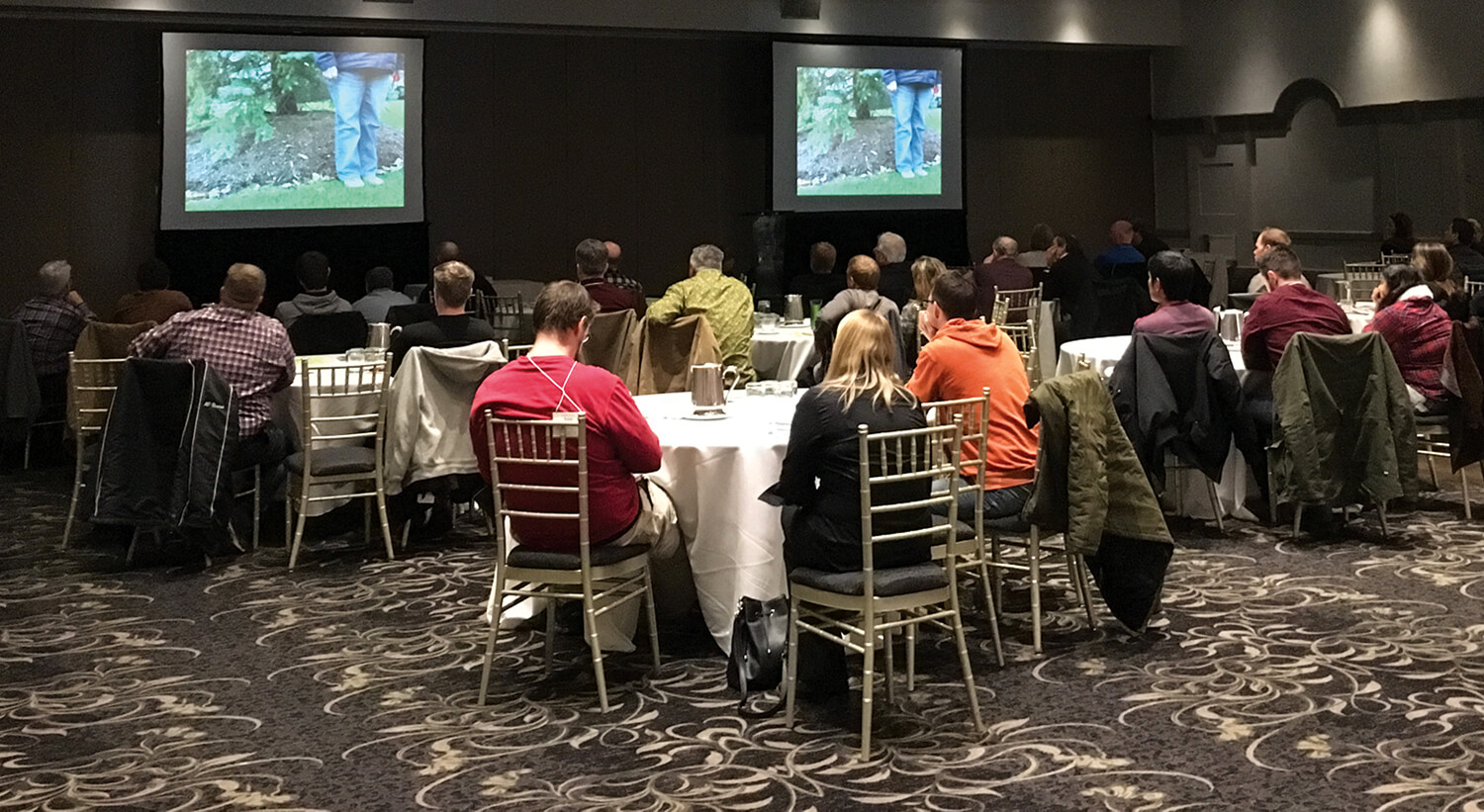 Contractors share at lecture event
For the second straight year, Landscape Ontario's Grounds Management sector group joined forces with LO's Landscape Contractors sector group for the annual Landscape Lecture event to provide about 100 participants with valuable information on a wide range of important topics for landscape professionals.

Held Feb. 28 at the Fontana Primavera Event Centre in Vaughan, Ont., the lecture included educational sessions led by green industry professionals punctuated by networking opportunities, a reception and dinner.

Brad Paton, owner of Shades of Summer Landscaping in the Hamilton area, chaired the grounds management portion of the afternoon, stating, "Unlike last year's event, which took place during an ice storm, this year had favourable weather. With a strong line up of three guest speakers, the event was well attended."

LO's seasoned veteran line up began with Jeff McMann, arbor services co-ordinator at the Mount Pleasant Group of Cemeteries, who discussed the importance and process of plant inventory and mapping of trees at Mount Pleasant. McMann said the process is a staggering amount of work, and the project will set the standard for large scale tree care sites.

Jennifer Llewellyn, nursery and landscape specialist at Ontario Ministry of Agriculture, Food and Rural Affairs (OMAFRA), followed with a talk on pests and diseases in the landscape, including her work on a new smartphone app that was recently launched that enables users to quickly detect and identify insect pests on woody ornamentals in the field. "We all look forward to her BugFinder app that will allow us all to look like experts!" Paton affirmed.

To round out the grounds management lecture, Rodger Tschanz, trial garden manager at the University of Guelph, spoke about the new annuals being introduced into the marketplace and which ones thrived in his trail gardens. With 2017 being the year of Canada's 150th birthday, Rodger expects to see many gardens filled with red and white flowers this year.

For the evening landscape contractor lecture, Joe Morello of Premier Landscaping and his brother Patrick Morello of LANDinc provided a unique picture of their shared history and related, but distinct, careers.

Peter Guinane of Oriole Landscaping, chair of the contractor sector group, praised the Morello brothers for sharing their "interesting clients, clever solutions and beautiful projects." Guinane was happy with the event, describing it as "Another great presentation this year for the annual contractors lecture."

The lecture is made possible by the generous support of sponsors: Beaver Valley Stone, Eloquip, Landscape Management Network (LMN), Sheridan Nurseries and Unilock.