October 15, 2014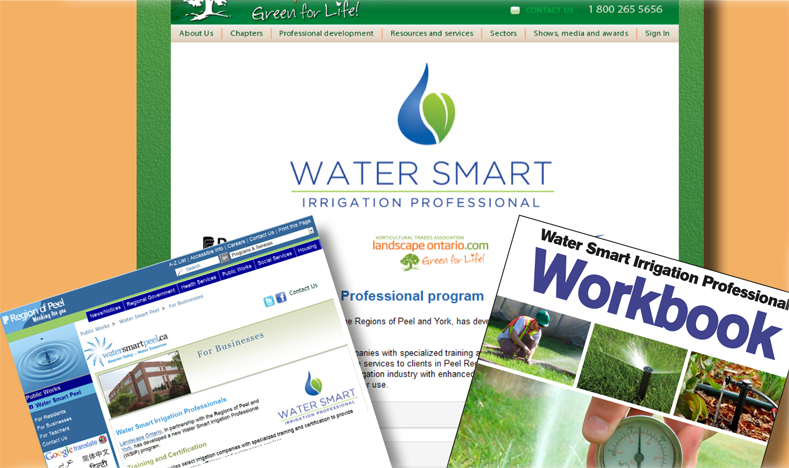 Irrigation Group develops water-smart program with Peel and York
Irrigation professional members of Landscape Ontario understand the importance of promoting smart irrigation.
The Association's Irrigation Sector Group promoted Smart Irrigation Month and has also joined in a Water Smart Irrigation Professional (WSIP) program with the Region of Peel, York Region and the City of Hamilton.
The program offers irrigation companies specialized training and certification. The Region of Peel, York Region and the City of Hamilton subsidize the cost for select contractors to perform comprehensive irrigation system assessments, for industrial, commercial, or institutional (ICI) customers within the two municipalities.
The program was created to benefit local businesses by providing the irrigation industry with enhanced training and knowledge while supporting environmental protection and sustainable water use.
Jeremy Harris, technical analyst with Peel Region, says the program provides contractors with a financial incentive to encourage their clients to upgrade existing irrigation systems. "The municipality is excited about the results we should see on water savings," says Harris.
Bill MacDonald of Angus Irrigation in Hamilton says, "WSIP is an absolutely worthwhile program that puts us into the forefront". He remembers when it was very difficult to demonstrate to large clients where the return on investment was for them to spend money to install a conservative irrigation system. "The WSIP program has simplified the process and made it easy for clients to immediately recognize dollar savings," says MacDonald. "LO did this the right way".
Harris went on to say that to his knowledge, no other municipality is involved with such a program. "I foresee that WSIP will be taken right across the province," he said. He expects in the next couple of years to have some good data to show how much WSIP will save in both water consumption and costs.
WSIP helps identify potential water and money saving opportunities by detecting damaged or leaking system hardware. It also helps maximize the life of systems by identifying needed maintenance and upgrades, and calculating the associated return on investment, ensuring the health and beauty of the landscape while saving money by confirming the effectiveness of a watering schedule.
The WSIP training program includes both in-class and field components. Following certification, irrigation contractors are required to conduct at least five irrigation audits at client facilities, using the new methods learned in the program.
This course will build upon concepts taught in the Certified Landscape Irrigation Auditor (CLIA) Program. The WSIP training and certification program will be offered at the LO home office in Milton. Read more information on the
participant selection crieteria
. or get
an online application form.
Depending on the number of applications received, an interview may be required as part of the application process. Contractors selected to participate in the program will be notified. A maximum of 20 irrigation firms will be selected from the applications received.
For more information on the WSIP program please contact
Cassandra
Garrard
.
---
NOTE: This article has been updated to include current links and contact information since the time when it was originally published.