April 15, 2014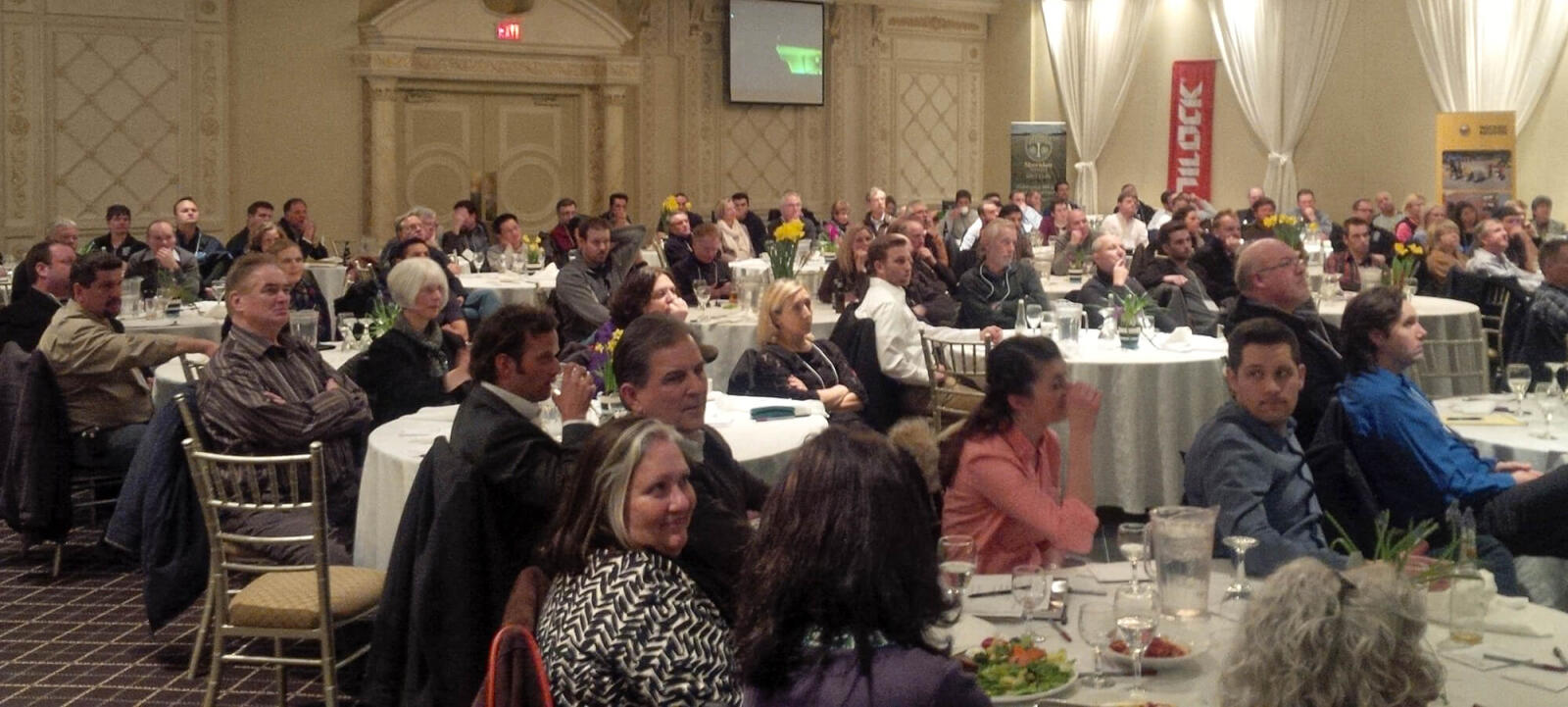 Lecture and dinner event features dynamic speakers
It was full house with more than 140 contractors, designers and suppliers in attendance on Feb. 25 at the annual Contractors Lecture and Dinner.
Hosted by LO's Landscape Contractors Sector Group, each year the event's location changes. In 2014, it was held at Paradise Banquet and Convention Centre in Vaughan.
The relentless winter weather this year continued its influence leading up to the evening, but surprisingly cleared and held off until the lecture was well under way. Many came out to network with peers, have a great dinner and learn from the lecture.
Dinner was significantly subsidized, which kept the price at only $15 per person. This was through generous event sponsors, Beaver Valley Stone, Eloquip, Gro-Bark (Ontario), Sheridan Nurseries, Unilock and York Region Equipment. Each of the event sponsors had exhibits that provided everyone an opportunity to see the products up close and talk to the suppliers throughout the evening.
Harry Gelderman, a director of LO's Contractor Group, was MC for the lectures that provided two very different perspectives on landscape design and architecture, as it relates to a contracted landscape project.
The first lecture was from Adrian Bartels of Cedar Springs Landscape Group, a Golden Horseshoe area-based landscape contractor with a broad spectrum of experience. Bartels highlighted many projects through a pictorial showcase and discussed his firm's philosophy and areas of specialty. A noteworthy quote that has been repeated verbally and tweeted many times since, Bartels said during his presentation is, "Approach growth not primarily for personal gain, but to create opportunity for others."
The lecture resulted in many direct and to-the-point questions and answers following the presentation; the audience was engaged! You can learn more about Adrian Bartels' firm at
www.cedarsprings.net
.
The next presentation contrasted with the opening lecture. Landscape architect John Szczepaniak, OALA, CSLA, brought with him a vast range of experience and inspiration from both local and international art and landscapes. Szczepaniak enlightened the audience on his purpose and passion for landscape architecture and the enhanced landscape. His design team consists of multi-disciplined individuals from various backgrounds in landscape design, landscape architecture, interior design and planning. They work in close collaboration to help realize each client's vision and utilize their combined skills in all aspects of the design process, from initial studies through to overseeing the completion of projects.
Both presenters answered questions about their projects, and shared some of their best life experience tips for the trade. The room was bustling following the event and many commented how inspired they were by their peers. A special thank you goes to Brenda Luckhardt and Sheridan Nurseries for the hopeful spring centrepieces of colourful blooming bulbs. It was a much-needed reminder that spring is coming!
"Our annual lecture is a great industry networking event, not only for landscape contractors, designers and architects, but for anyone involved with any part of the process of a landscape project. Guests were engrossed in the presentations and gained new perspective from two unique industry professionals", said Peter Guinane, chair of the Landscape Contractor Sector Group.
Guinane also remarked, "This event is made possible through the hard work of our committee members and we thank each one of them for volunteering their time."
Work has already begun on next year's event. Announcements on plans for the 2015 event should take place soon. Any ideas, comments or suggestions to share, send to
kristen@landscapeontario.com
.