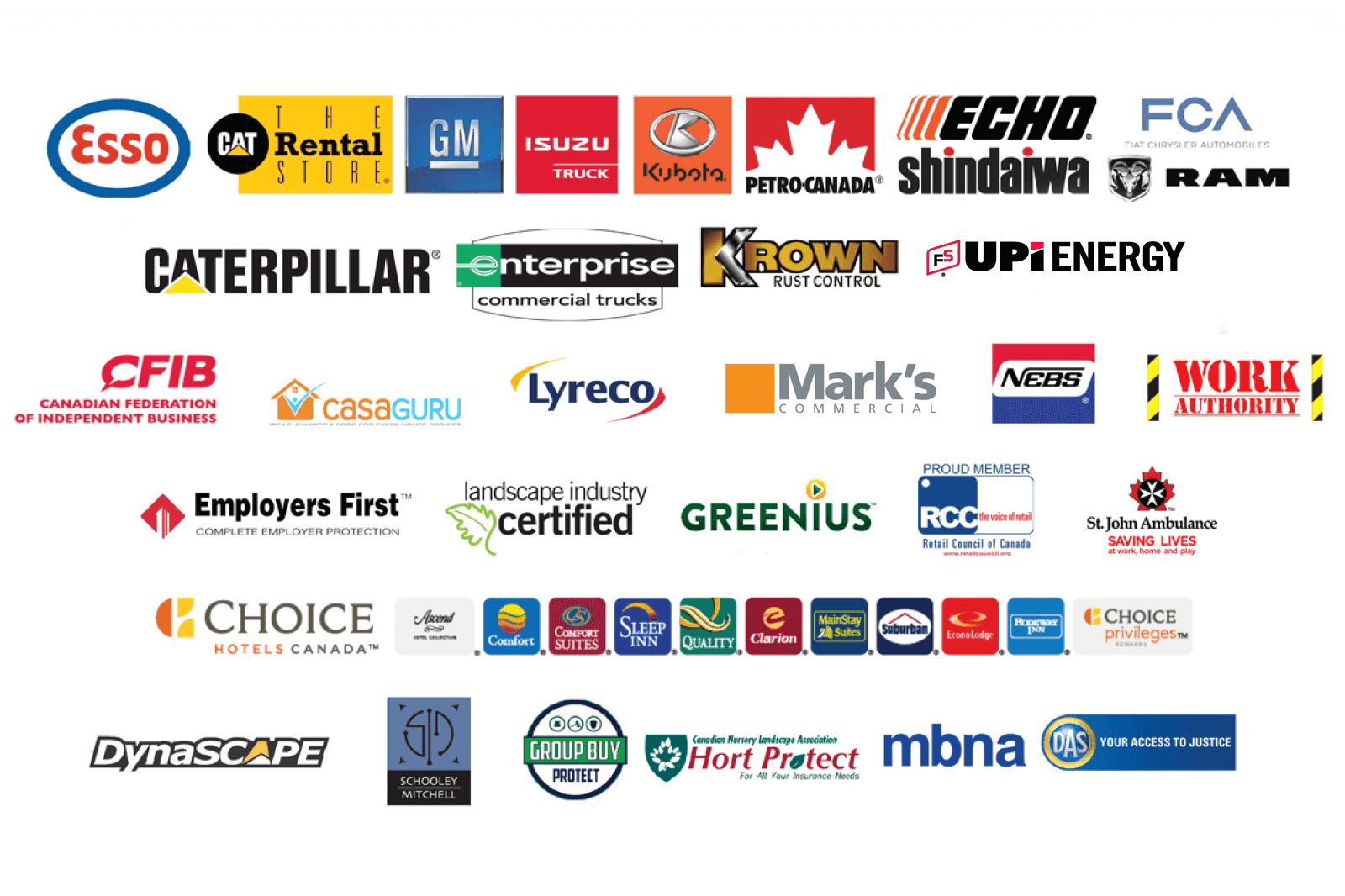 Exclusive member savings programs
Under the umbrella of the Canadian Nursery and Landscape Association (Landscape Ontario's parent Association), your membership entitles you to take advantage of a variety of programs which will enable your business to save money on a wide range of business products and services. Most of these benefits are administered by the Canadian Nursery Landscape Association (CNLA).
Note: Some savings can be passed directly to your staff ie: Discounts on work attire/boots through Mark's and Work Authority
Click here for a PDF list of endorsed suppliers
Vehicles and Equipment
---
Caterpillar
Save up to $2,750 on select CAT equipment and attachment purchases and 10% off the list or book rate for anything rented through the Cat Rental Store. In order to take advantage of this offer, contact CNLA Member Services at info@cnla-acpp.ca or 1-888-446-3499 to obtain a membership confirmation letter to give to the dealer.
---




ECHO/ Shindaiwa
Receive a 20% manufacturer's suggested retail price (MSRP) discount off ECHO or Shindaiwa units and accessories*. Members will benefit from a discount on power equipment, specialized commercial and professional gardening tools and accessories. For more information, or to request a certificate of membership, please call the CNLA Member Services Team at info@cnla-acpp.ca or 1-888-446-3499.

*Plus applicable taxes, $250 minimum purchase, does not include parts and labour
---


Enterprise
Save 10% off daily, weekly and monthly posted retail rates for commercial truck rentals.

---





Chrysler Canada
Save thousands on NEW Dodge, Jeep and Ram vehicles. A $200 administration fee* per vehicle that must be paid by the member to CNLA before the membership confirmation letter will be sent. Note: FCA Canada Inc. has agreed to pay $100 of this amount on behalf of CNLA members for the remainder of the 2016 model year, ending September 30, 2016>. To request a authorization letter, please call the CNLA Member Services Team at 1-888-446-3499 or info@cnla-acpp.ca
---
General Motors Canada
Huge savings on select NEW GMC vehicles. A $200 administration fee applies, program is non-stackable and cannot be used in conjunction with any other retail incentives including 0% or any other special finance rate. 2016 rates now available! *Certain conditions apply. To request a authorization letter, please call the CNLA Member Services Team at 1-888-446-3499 or info@cnla-acpp.ca.
---
Imperial Oil (Esso)
Landscape Ontario and Imperial Oil are pleased to offer the LO member Esso Fleet Card Program.
Each LO member may enjoy:

A discount of 2.9 cents per litre off the retail posted pump price on any type of fuel at all Esso retail locations in Canada
Detailed monthly invoicing customized to your needs
Various card types for maximum control and ease
The largest retail network with over 1,900 Esso locations to serve you throughout Canada
Over 600 Esso Car Wash locations in Canada
Esso On-line: account maintenance, billing, payment
Esso Extra Card
Aeroplan Card Program
Esso Speedpass

Learn more about the ESSO Fuel Program

To apply, simply complete the application below:
LO Esso Business Account application form

Submit your application by email, fax or mail it to the program coordinator listed below:
Tim Jones — Esso Business Fuel Cards
Call Tim Jones at Esso — 905-852-6425 or email timothy.jones@wexinc.com
---
Isuzu Truck
Save up to $4,000 on select NEW Isuzu Trucks and are also entitled to Competitive Assistance or Fleet Assistance. $100 admin fee per vehicle.
Call the CNLA Member Services Team at 1-888-446-3499 or email info@cnla-acpp.ca.
---
Krown Rust Control
Receive access to special fleet pricing programs and discounts on specified products.
---


Kubota Canada Ltd.
Receive 18-22% off the suggested list price, or discounts of 11-15% off the suggested list price for purchases made with 0% financing for 36 months*. (OAC. All applicable taxes, CEA, freight, set-up, environmental fees, dealer administration fees, PDI and delivery are paid by the member). $100 administration fee applies. For more information call the CNLA Member Services Team at 1-888-446-3499 or info@cnla-acpp.ca.

*Other financing options and discounts available:

9-13% for 42 months
7-11% for 48 months
3-7% for 60 months
---
Petro-Canada
A discount of 2.4 cents/litre on all grades of gasoline and diesel purchased at Petro-Canada retail service stations. A minimum of 400 litres must be purchased on your account to qualify for this discount.

A discount of 15% on car wash at Petro-Canada retail service stations.
3% discount on propane.

Contact Andréanne Gendron, agendron@suncor.com to request your account be linked to the Canadian Nursery Landscape Association account.
---
UPI
3% discount on fuel purchases using your EnergyCard™ and 2 cents per litre on all fuel, heating oil and bulk propane delivery purchases made on a credit-approved account.
Call 1-800-396-2667 or visit www.upienergylp.com.
---
Technology
---
DynaSCAPE Software
Members receive a 10% discount off new or upgrade license purchases and online training.
---
Schooley Mitchell Telecom Consultants
Want to lower your telecom costs? Schooley Mitchell customers save an average of 30% yearly on their local services, cellular, long distance, internet and conferencing.

Their savings concept is simple:

They start with a no cost, no obligation review of your current phone services
They do not represent any telecom supplier or accept commissions from them
You take NO RISK – they will either save you money or give you a no cost validation that you are receiving the best value for your existing services

Call the CNLA Member Services Team at 1-888-446-3499 or info@cnla-acpp.ca.
---
Business Solutions
---
Canadian Federation of Independent Business
Receive a discount on membership fees and access to savings programs, business training resources, business counselors and increased lobbying power at all levels of government.
---
casaGURU
Free business listing for Landscaping Professionals only on casaGURU.com and its partner sites, including HGTV.ca. Go to www.cnla-acpp.ca. Use the promo code CNLA001.
---
Hartwick O'Shea & Cartwright Ltd.
Negotiated clearance rates from Canada Customs for LO members. World-wide freight forwarding and personalized service.
Call Marc Boddy at 905-678-6470 ext. 227 or 1-800-454-0230.
---
Lyreco Office Supplies
Discounts on over 7000 office products. Also offering to customize a discounted core list of items for your business.
---
Mark's Imagewear
Receive a 10% discount on specified Mark's imagewear clothing, footwear and safety accessories with the new savings card. The Mark's savings card will be required to access the 10% discount. Contact the Member Services team at 1-888-446-3499 or info@cnla-acpp.ca for your card and catalogue today!
---
NEBS Business forms Ltd.
Perfect Partner Program
Save 15% on orders. Collect AirMiles. 100% product guarantee.
Call LO first at 1-800-265-5656 to get the catalogue number necessary for discount.
Place orders by calling NEBS directly at 1-800-461-7572
---
WORK AUTHORITY
15% off of all regular priced products at all WORK AUTHORITY locations. No minimum purchase surcharges apply. Must be paid by Cash, Debit, Credit Card. Direct orders can be made through Dianne Taylor (dianne.taylor@workauthority.ca).

Where an item is sale priced, the lower price will apply. Coupon is required to be eligible for discount, please contact Member Services at info@cnla-acpp.ca for the PDF of the card. Not to be combined with any other offer. More information can be found at workauthority.ca or on the CNLA website.
---
Industry Training
---
Employers First
Members receive a 10% discount on over 40 landscape and safety training courses.
---
---
Greenius (Formerly LS Training System)
Ontario Government Grant Program now available to Ontario employers covers up to 83% of the cost for companies under 50 employees and 66% of the costs for companies over 50 employees.
New for Spring 2015 — we come to you! Greenius is now a full-service training company. The on-line videos teach the basics of operation, proper techniques and hazard awareness to both existing and new employees — no software, no DVD's, no VHS. LS Training has a library of 27 videos, complete with interactive online exams. Once the exams are passed, the system generates the training checklists, each takes 10 minutes to be done with a trainer/supervisor either on your own or we come to you — the employee demonstrates their basic knowledge and skills, and then sign off! The system stores records and reports of all training data, which can help you win your bids, as Health and Safety of commercial clients have strict requirements which this meets.
Brand New: Supervisor Training Series. These 7 videos are specific to your foreman, crew leaders and crew managers. Effectively promote your best people with courses like: Morning Prep, Safety and Training, Meeting and Beating the Budget, Customers Count, Defensive Driving, Quality Counts, Coaching and Motivating, and later in the year — Conflict Resolution.
Create your own Tailgate Library and store them in the system-even add your own; diplomas for your employees that pass all the courses.
Coming in 2015: Mini X and Conflict Resolution


To obtain your membership discount code to access an additional 5% savings off your rates* contact the CNLA Membership Team at 1-888-446-3499 / info@cnla-acpp.ca. For more information visit LS Training www.gogreenius.com or contact Arden Urbano at arden@LSTraining.com or by phone at 1-877-482-2323 ext 108.
---
Retail Council of Canada
Canadian Landscape and Nursery Association is now a proud member of Retail Council of Canada and CNLA members can now access select Retail Council of Canada (RCC) Group Discount Programs with a username and password.

For your username and password or to learn more about the benefits available through CNLA's RCC Membership, please contact the CNLA Membership Team today at 1-888-446-3499 or email info@cnla-acpp.ca.
---
St. John Ambulance
Members receive an 8% discount on first aid with CPR certification; as well as a 10% discount on first aid kits, discounted rates on Emergency First Aid course and the Standard First Aid course.
---
Travel
---
Choice Hotels
Save 15% on the lowest internet advertised price at participating Choice Hotels worldwide, on an available-room basis.
---
Financial and Legal Services
---
DAS Canada
Unlimited telephone legal advice provided by DAS Canada. Call 1-877-DASLEGAL (1-877-832-7534)
---
DCR Strategies Inc
A better way to pay offshore workers through the TruCash prepaid debit card.

---
Group Buy Protect
Provides your business with up to $1 million in legal expense coverage. Available legal assistance with contract disputes and debt recovery.
---
HortProtect Insurance
Business and Auto Insurance: Total coverage for all your general insurance needs. This program meets all pesticide legislation, covers rented equipment, theft of tools and errors and omissions. Call Marsh Canada at 1-888-949-4360.
Group Life and Health Insurance: Flexible benefit plan designed to meet your needs. Available to groups of one or hundreds. Non-medical coverage, free comparisons, drug cards and out-of-country protection. Call The Investment Guild at 1-800-459-8990
---
MBNA Canada MasterCard
This card is designed to help you save money with a 1.99% promotional AIR† for 10 months on all balances you transfer* to your CNLA MasterCard credit card account (as well as on access cheques and deposits*). This benefit alone may save you hundreds of dollars.

When you use your CNLA Platinum Plus MasterCard credit card account, a portion of the amount of your qualifying purchases is donated back to CNLA to support a variety of projects and initiatives.

Apply online or call 1-877-428-6060.
Call the CNLA Member Services Team at 1-888-446-3499 or go to www.cnla-acpp.ca
---