June 15, 2019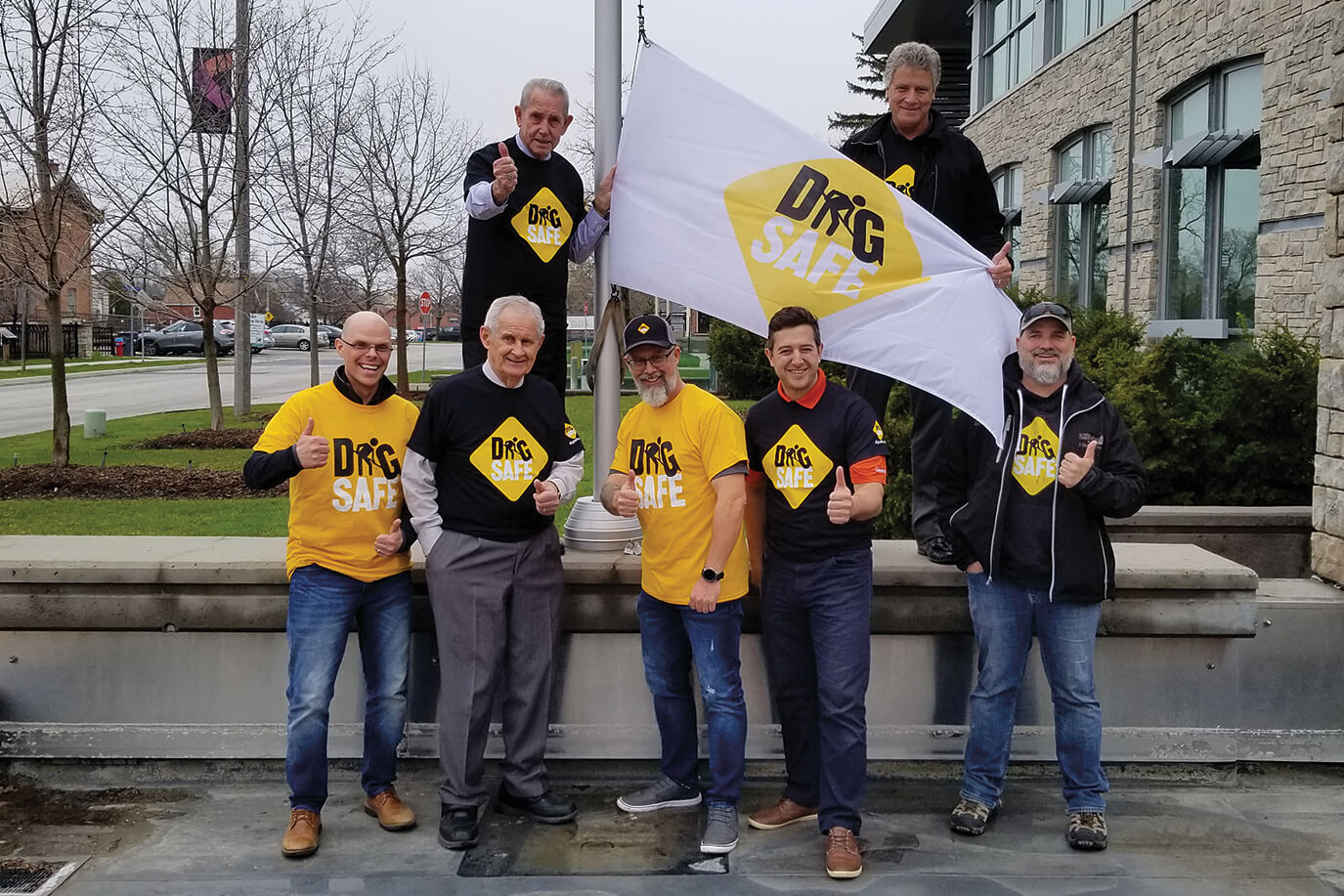 Milton mayor hoists the Dig Safe flag
On May 1, representatives from the damage prevention industry met with Town of Milton Mayor, Gordon Krantz to celebrate Dig Safe Month.
The longest-serving mayor in Canadian politics, Mayor Krantz read a proclamation at Milton Town Hall to declare the months of April and May 2019 as Dig Safe months in the Town of Milton, Ont., encouraging support for the campaign.
After the proclamation, representatives, including those from the Ontario Regional Common Ground Alliance (ORCGA), organizers of Dig Safe month, joined the mayor to hoist the Dig Safe flag.
Purpose of the proclamations
The ORCGA and Ontario One Call (ON1CALL) have a spring advertising and awareness campaigns aimed at homeowners and all excavating contractors, to remind them it is the law in Ontario to first call for underground utility locates before digging. A number of municipalities in each of the ORCGA's 13 Geographic Council territories are targeted for these events.
Last year in Toronto, over 200 people attended a Dig Safe event at Toronto City Hall. In Milton, the annual event is usually held at Landscape Ontario's home office, but was moved to Milton Town Hall due to the ongoing renovation project at the site. As an aside, the major construction project at LO is designed to better serve education and training programs the association offers to members of the landscape and horticulture profession.
The Dig Safe promotion was once again well-received at Canada Blooms, the country's largest flower and garden festival, held in Toronto in March. The event attracts close to 200,000 visitors. The ORCGA display at Canada Blooms was aimed at educating homeowners just in time for spring plantings and outdoor renovation projects. Last year, over 2,000 homeowners visited the ORCGA display at Canada Blooms.
Milton a key target
The Town of Milton is a key target for the ORCGA awareness campaign because the area has seen a tremendous population growth rate from 31,471 in 2001 to 110,128 in 2019. This rapid growth means a record number of new housing starts, major infrastructure projects (roads, schools, community centres, etc.), plus the countless post-construction projects that then support those new build.
This increase in excavation at all levels and at a rapid pace can lead to many underground utility hits if people are not aware of the "Call Before You Dig" and "Dig Safe" messaging. Mayor Krantz fully understands this and is supportive of our efforts.
Underground utility hits are down
The total reduction in underground utility hits in the Province of Ontario in 2018 compared to 2017 was 5,385 to 5,042 or a 6.4 per cent decrease. Each year, there are approximately six million locate requests completed in Ontario. Not obtaining locates runs the risk of property damage, serious injury, or both. The social and economic costs associated with underground utility hits in 2018 is estimated at over $600,000.
Next steps
The ORCGA and key players in the damage prevention industry will continue efforts to reduce and even eliminate the cost of underground utility damages. Many Dig Safe events are held on a smaller scale, such as at local Tim Horton and Home Depot locations. These, when combined with larger events like Canada Blooms, are slowly raising awareness and are helping to make a difference.
Conclusion
In order to reduce the number of utility hits across the province, both groups, homeowners and contractors must be made aware of the potential dangers that lurk underground and the process to first obtain locates. By working together to promote the Dig Safe message, we can help to reduce the cost to society, both on a social and economic level.
---