October 25, 2023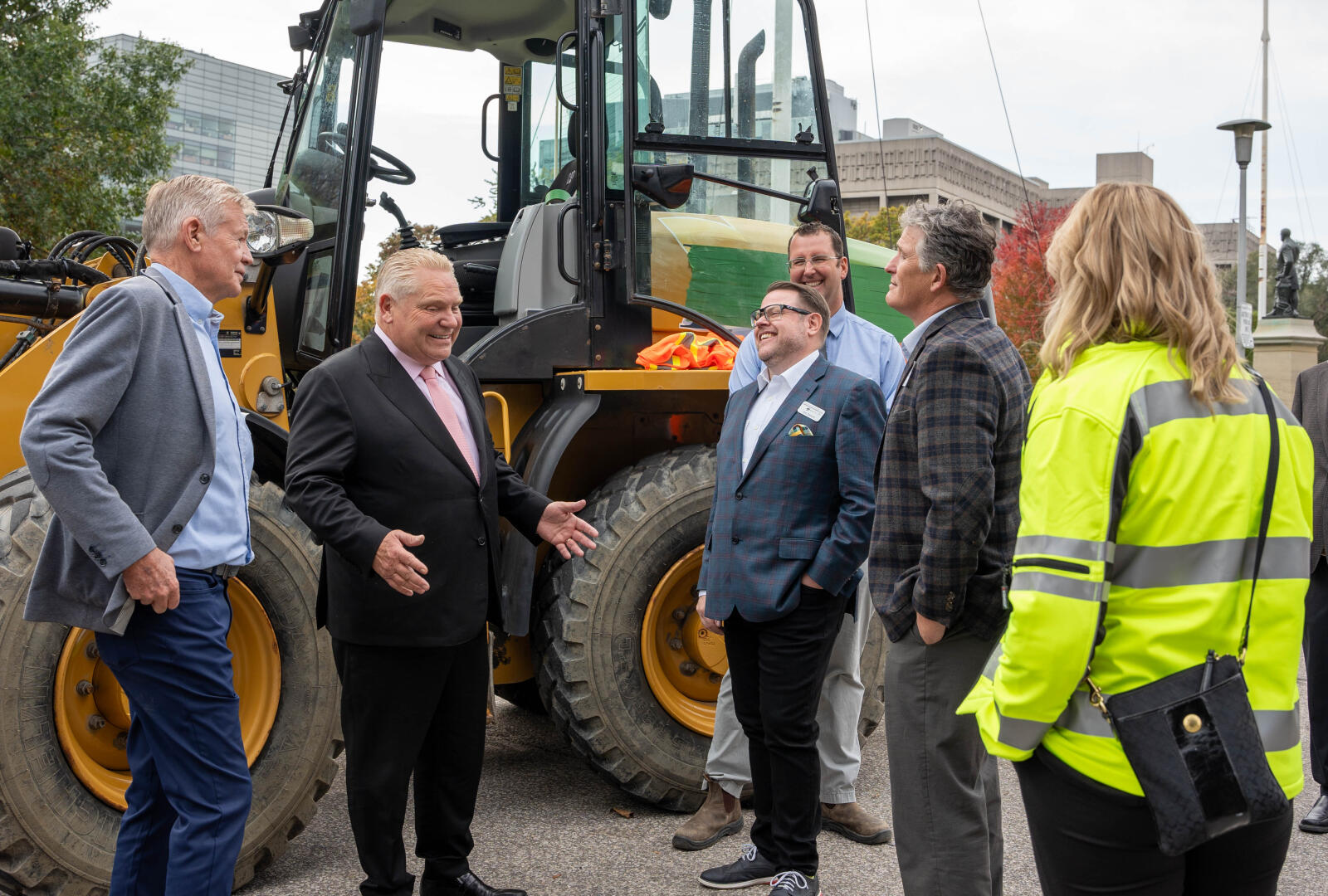 Successful day for snow and ice contractors at Queen's Park
By Julia Harmsworth
Representatives of Landscape Ontario's Snow and Ice Sector Group gathered at Queen's Park in Toronto on Oct. 24 to advocate on behalf of those who keep our roads, sidewalks and parking lots safe each winter. The day was a success, with Premier Doug Ford and ministries across the board showing support to the cause.
The sector group is asking the provincial government to enact a regulatory framework for snow and ice removal to create safer working conditions, foster a more professional workforce, and
reform the liability system to bring down the cost of doing business due to slip and fall claims and skyrocketing insurance premiums.
"Our day of advocacy at Queen's Park was our opportunity as hard-working contractors to meet with MPPs to discuss our shared efforts to create safe conditions for all Ontarians," said Joe Salemi, LO executive director.
"We met with Premier Doug Ford, many ministries and MPPs who were all very supportive of the work we're doing to improve conditions for snow and ice management contractors to do business in Ontario."
Andrea Khanjin, minister of the environment, conservation and parks, committed to championing the cause in Parliament. Some ministries requested the policy paper, which LO wrote in collaboration with Daisy Group, a government relations firm.
To kick off the events, MPP Parm Gill, minister of red tape reduction, introduced Salemi, Jon Agg of Pristine Property Maintenance, Chris Morrison of Morrison Risk Services and Adjusting Services, and
Gerald Boot of Boot's Landscaping and Maintenance
in the House.
Salemi, Agg, Morrison, Boot, Raqib Omer of Viaesys Inc., Jasmine Formusa of Elite Groundskeeping, Nicole Ashton of North Country Snow and Ice Management, Rohan Singh of TCG National, and Jenna Monk of MPS Property Services represented the group in various meetings with Ontario ministries, in partnership with the LO team.
LO met with the Ministry of Natural Resources staff; Ministry of Agriculture, Food and Rural Affairs staff; MPP France Gélinas; MPP Brian Saunderson, parliamentary assistant to the attorney general; MPP Rick Byers, parliamentary assistant to the minister of finance; and MPP Deepak Anand, parliamentary assistant to the minister of labour, immigration, training and skills development.
Agg brought his Cat 914 compact articulating wheel loader with a wing snow blade, which Anand, Khanjin, and MPP Rudy Cuzzetto came down to touch and take photos with. Even Premier Doug Ford climbed inside the truck and talked with the LO representatives, indicating his personal support of our efforts.
The day concluded with an evening reception inside the Ontario Legislative Building, where snow and ice contractors, LO staff and MPPs gathered to further discuss the cause.
The association will continue to work with the Snow and Ice Sector Group, Daisy Group and our government allies to enact these much-needed reforms.
"The support was overwhelming — it is clear that our message was heard by our provincial government loud and clear. All of our hard work leading up to this point has all been worth it!" added Salemi.